People are the biggest asset of an organisation. They are the physical manifestation of the brand, they influence the customer experience and they can make or break growth ambitions.
Yet unlocking this potential to its fullest sometimes requires more than good day-to-day management. Spotting the symptoms is one thing, letting someone come in and work directly with your team is another.

Since starting West Creative, James has been active delivering Business Advice, Business Coaching, Training and Facilitation with a speciality in the Creative & Cultural Sector.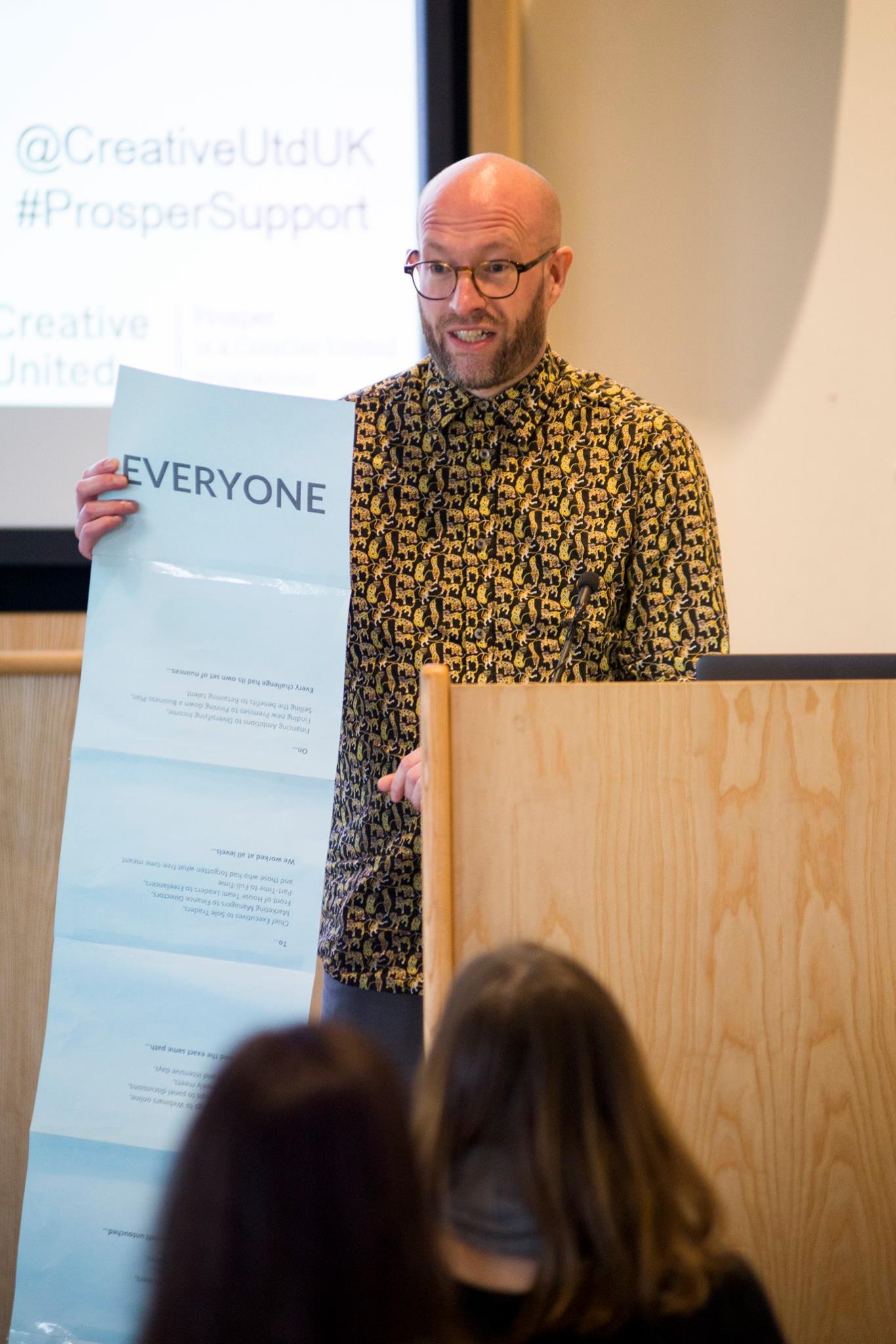 BUSINESS ADVICE, TRAINING & FACILITATION
Using techniques drawn from creative practice, James West is an expert at untangling problems. Making sense of complex ideas and explaining them in straightforward steps.
A natural facilitator, James brings energy and imagination in equal doses whether he's working with a board or staff team, one-to-one or one-to-many, online or in a physical setting.
Likewise, he's also known for advising creative and cultural businesses direct through his involvement in several government funded Business Advice contracts. Providing one-to-one advice, one-to-many sessions and training through presentations, webinars and guest appearances on panels at conferences.
"James has an informal, fun and engaging style which helps all staff at all levels relax and feel that they can contribute equally in a workshop setting. James brings an energy and insight into complex issues which helped us (The Architecture Centre) demystify some big and pressing issues around both corporate sponsorship and institutional marketing."
Sarah James, The Architecture Centre
"James has made a brilliant contribution to the London Fusion project. He really understands the business needs of creative companies. A great team member."
Dr Cathy Garner, London Creative & Digital Fusion / Lancaster University
"When we embarked on this there was some pushback against it, so actually you were our friend to give us confidence that we were on the right track. There was a trust that we had in you that you were going to help us get this right."
Kirstie Mathieson, Theatre Royal Winchester / Play to the Crowd
WEBINAR FEEDBACK
"I've never laughed so much on a webinar."
"The props were fun. You kept me engaged from start to finish."
"Thanks for todays webinar. I'm going to starting writing a one-page business plan straight away."
CLIENTS
Creative United
British Council (DICE)
Lancaster University
Get Set UK
Creative Islington 
Age UK Islington
Architecture Centre Bristol
Comedy International Conference
Creative Industry Finance
Exeter Phoenix
Greater London Authority (GLA)
---

Hackney Empire
London Fusion
Music & Lyrics Ltd
Music Venues Trust
Poet in the City
Schools Library Service London
The Mill Arts Centre
Tower Theatre
Wandsworth Council
Waltham Forest Council
Winchester Theatre Royal Trust
---
---
---


BUSINESS ADVICE & COACHING
James is a Creative Industry Sector Specialists Business Adviser and can also cover general SME Business Advice. He has supported over 400+ businesses across the UK. Covering topics from product diversification to growth strategies, business planning to sales and marketing. James is always open to new opportunities advising business in the enterprise sector.


TRAINING & WEBINARS
Always keen to share expertise where it can benefit people and organsiations, topics include Social Media, Marketing, Sales and Busness Planning. Bespoke and off-the-shelf presentations available.
---


GUEST SPEAKER
As a guest speaker and a panellist, James is able to share his insight in an upbeat, engaging style. A great listener and a quick thinker, James adds value to panel based discussions.  
---


AWAY DAY
Away Days and out-of-office sessions with James are memorable and energised. Drawing from creative techniques, his leadership carriers the entire room throughout the session. Particularly suited to sessions on stragtegic planning, marketing and audience development.
---


STRATEGIC FACILITATION
Often working with senior teams, boards or trustees, James has led a number of sessions to improve growth planning or tackle specific hurdles.