In 2019 Stephen Jeffery, Chief Executive of London Learning Consortium, got in touch after receiving a recommendation from an industry peer.
Recognising the growth of his organisation and the varied focus they had on marketing, he was keen to assess whether investing in a marketing strategy was a worthwhile activity.
Very budget conscious, knowing there would be a return on investment was at the forefront of his thinking. Quickly he learnt how much we understood this requirement and wouldn't let it hinder what could be achieved.
We started by listening; leading a research project across staff, partners, employers and learners. We also looked at competitors and where the organisation would be best positioned. The process was illuminating for the team, seeing the organisation from a different perspective.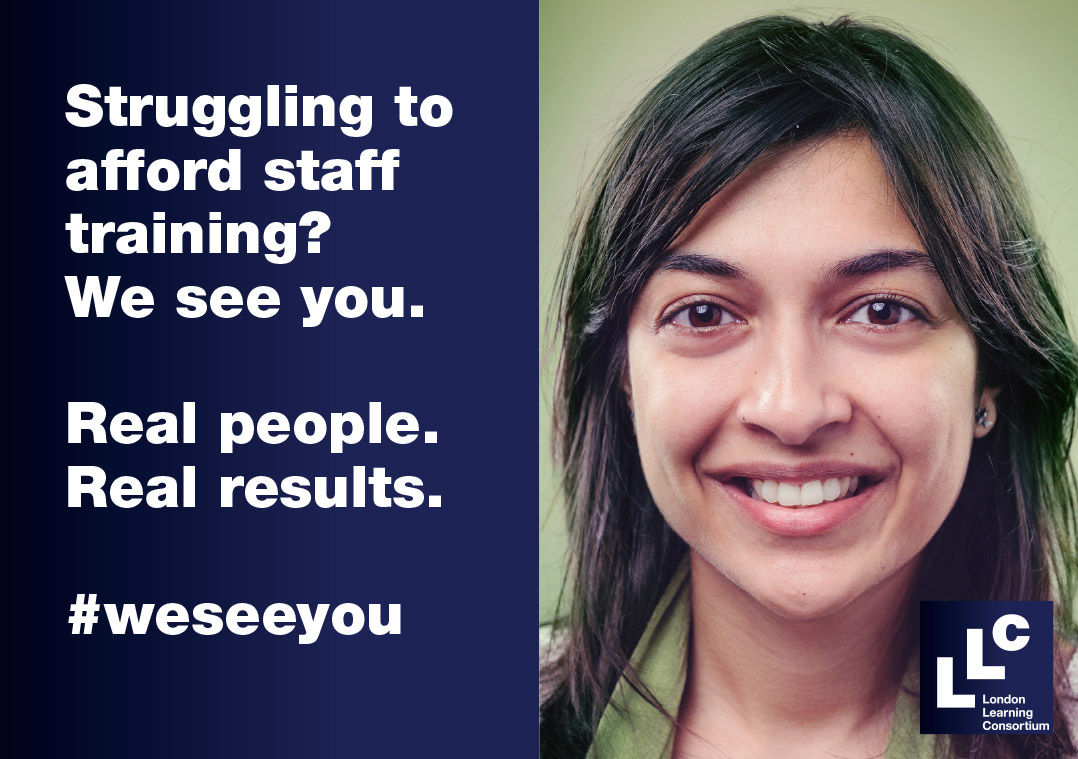 LONDON LEARNING CONSORTIUM
We see you
Simple and straightforward. The entire positioning strategy and brand refresh focused on London Learning Consortium's delivery of low-mid level qualifications – giving people who are often overlooked the tools to be recognised. Drawing from urban slang, we adopted a common phrase of acknowledgement into a new strap line for the organisation 'We see you'.
"At last a marketing person who listens and does what they say they will!
Excellent service and knowledge of what to do and most importantly the why and how.
Couldn't recommend James highly enough."
Stephen Jeffery, Chief Executive
London Learning Consortium
MULTI-CHANNEL MARKETING
Much more than just providing a strategy, West Creative worked with London Learning Consortium to equip them with tools across all aspects of their marketing – from refreshing their website to developing physical branding within each of their hubs across London. The marketing team were given access to a library of bespoke templates fuelling their social media marketing and promoting the new We See You concept.
---
COMMISSION DELIVERABLES INCLUDED:
---

RESEARCH & STRATEGY
The adult learning sector is a competitive market. To ensure an offer is distinctive, it is vital to use both first hand research and desk research to identify the right positioning strategy. This approach created the foundations for the work with London Learning Consortium.
---

POSITIONING MESSAGES
Standing out and getting noticed is much more than amazing visuals. Our collaborative approach allowed West Creative to create a set of hero messages that were punchy, memorable and authentic. Core to the new positioning strategy.
---

TOOLS TO SUCCEED
Building capacity to sustain a strategy, we wanted to ensure the team at London Learning Consortium had the tools they needed to drive their marketing activities year round - from PowerPoint to Social Media templates, the final product was a library of bespoke marketing tools.
---

ON GOING COMMISSIONS
Cutting across the organisation, we have developed campaigns at every level; from employer engagement to recruitment drives for events and opportunities. Campaigns have been delivered on social media, in print, direct mail and at events.
---