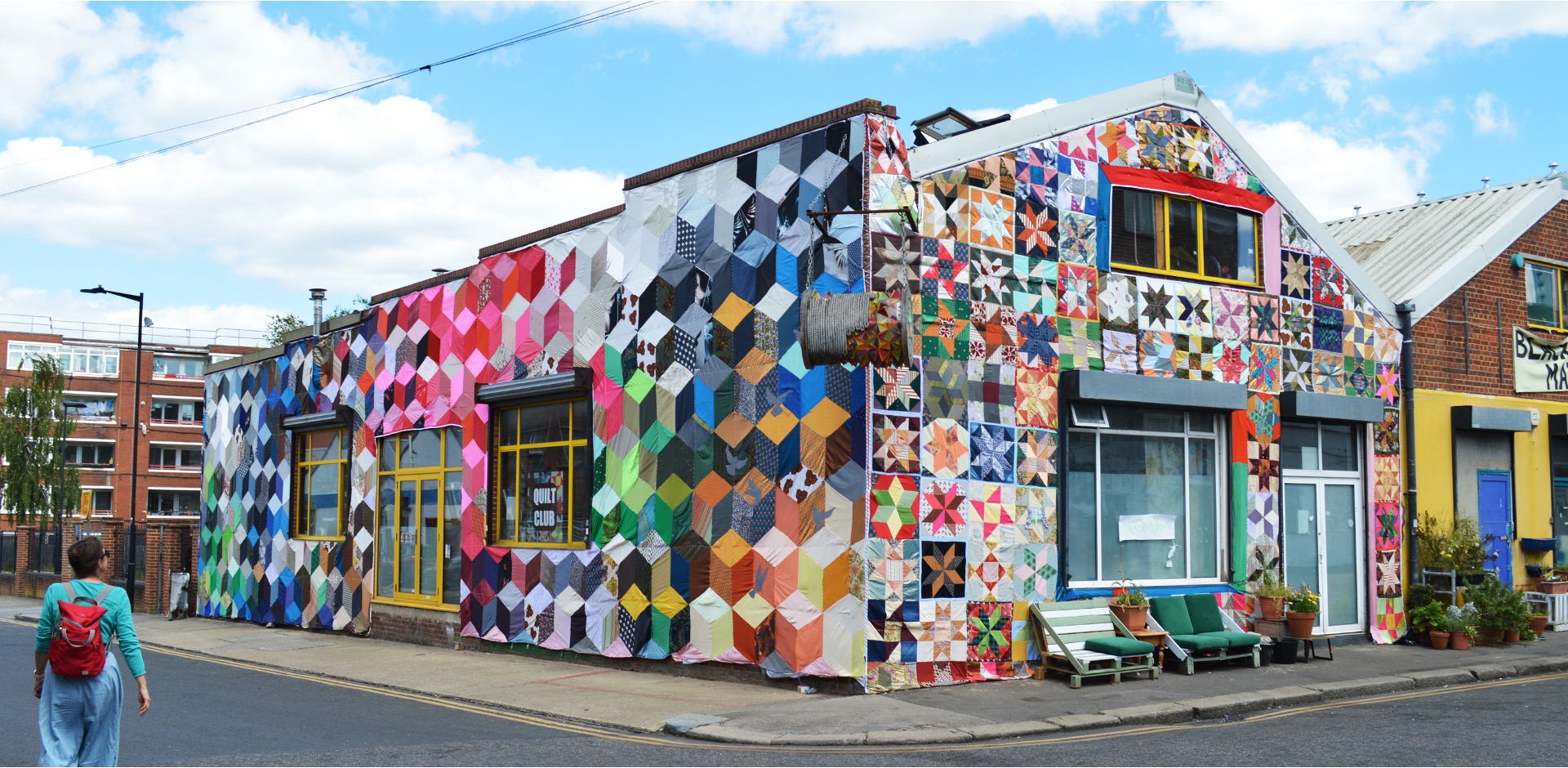 ---
INSPIRING A LOCAL ARTIST TO THINK BIGGER
---
{NICOLA WOOLLON: QUILT CLUB}
---
---
While James West was co-running Haringey Arts, a social enterprise focusing on the Manor House Warehouses in north London, and busy establishing West Creative, he lived next door to textile artist Nicola Woollon. As a friend he offered advice that helped cover one of the famous warehouses in a giant quilt embroidered together with the community from the neighbouring estates. Here the pair discuss friendship, project managing and ways to take your artistic practice up a level.  
---
The Manor House warehouses have a mystique: there are around 1,500 people living in the warehouses which were converted over the past 25 years. For a long time, residents weren't sure if the arrangement of live/work studios was legal or not but since 2014 Haringey has acknowledged and celebrated warehouse living. Despite this there has been an uneasy relationship between the warehouse residents and the next door estate, especially the older residents.
Uncomfortable seeing the divide between Tewkesbury estate and the creative community where she lived having access to a big space, Nicola Woollon started Quilt Club. At first, she wasn't sure if the ambitious idea to cover a house with a quilt would work, and that's where James' advice really helped.
JW: Creatives are incredible at coming up with ideas, but then they have to deal with the white noise of getting everything in place to make it happen. As a business adviser I think but that X and Y is obvious, but for you making the aesthetic is obvious – pulling the two together is the start, but the gap is often not as big as you think it is.
NW: I studied fashion and then got into embroidery. I worked for fashion houses in UK mostly Alexander McQueen who had most of their production in India, then I started working for designers based in India, and looking after clients of brands across London and some in Paris. It was all very commercial: flowery and leopard print. I wanted to carry on exploring print and fabrics so that's how I came to quilting during lockdown.
JW (laughing): Before you dive into Quilt Club say how we began working together.
NW: One of my Indian suppliers wanted to start an artists' residency in India. I'd been in the background of your meetings and heard you give very good advice to Carolina (visual artist), Ellie (theatre practitioner) and lots of creatives so I asked you for dinner and we had a chat. You gave good advice asking what we want it to be now, where it will be in five years' time and what good will it do anyone. It was looking at it from a completely different perspective other than just going to be fun.
JW: I find I give so much business advice that it becomes second nature, but in a friendship setting it is always very informal and might include 'if only you could do x and y' or 'have you thought of this and that'?
NW: I could ask silly questions and there were lots of gentle learning opportunities – I didn't need to present a business head as I would have if someone was giving me funding. The artists' residency ended up becoming much more complicated, but it was definitely a good learning experience. It opened my mind up to running something and what that needs and what needs to be considered.
---
We talked about it and your best advice was if I can manage, was just get going as I didn't have to pay for space and I already had lots of fabrics. You said it'll give you evidence of what you can do.
---
JW: So what happened next?
NW: Half way through lockdown, mid 2020, Eade Road Studios, the old Penwright Factory, one of the architects that worked with our landlord, Shulem, and renovated it into art studios – the area has employment zone status and there are now 34 studios.
JW: Then you spoke to me about an idea.
NW: I wanted to know how I could get funding to run a workshop. We talked about it and your best advice was if I can manage, was just get going as I didn't have to pay for space and I already had lots of fabrics. You said it'll give you evidence of what you can do.
JW: I asked why do you want to quilt a warehouse, what difference is it going to make, and how will it change people's lives?
NW: And I kept saying I don't know until I meet them!
JW: I could see that the journey of 6-12 months applying for funding didn't suit you. You just wanted to get quilting.
NW: If we'd been waiting for funding I'd have got bored of the idea. What was most important for me was making the activity as inclusive as possible. We talked about how to get people from the estate to come to the warehouses.
JW: So how did you?
NW: I put posters up in Nissa, I took my dog out and I kept talking to people. I thought if just one person from the estate comes and is able to go back and say we're not the crazy party people that they think we are, then word would quickly spread. In the end we had six or so people come from estate regularly and probably about 200 overall. I ran workshops once a week from November to July. Most weeks there were no less than 10 people, some weeks there were 30, even 50, people quilting. At the end we had a huge quilt that covered the façade of the front and side of the warehouse. We left gaps for windows and doors. It fitted perfectly! It helped that my housemate Ali surveyed the building for us as she works for an arts organisation called Creative Giants.
JW: It looked beautiful.
NW: It was big: we made 321 diamonds to make 81 tumbling blocks so you got a 3D impact on the side which was 22m wide and 8m high. The front was 9m wide and at its tallest point 8m tall and we covered this with 81 squares broken down into five different geometric stars which all required different skill levels.
JW: It epitomises togetherness. My mum donated fabric, and you made a square for Betty and put it on the quilt.
NW: Betty gave us our first donation and had examples of quilting she'd done, it was a wonderful contribution. Quilt Club was predominantly women – it was all women for the first 10 sessions aged between 22-65 and one seven-year-old, then a couple of very gentle men came. It was a really female dominated space, I loved that! I haven't been in very many environments where that was the case. We mostly talked about sewing and how to sew, and sometimes the relationship between the warehouses and the estate and what people think of us.
JW: You did all this without public funding!
NW: We applied for funding from Untold Stories for £5k which would have bought sewing machine and talks, but we didn't get it.
JW: What you got was lots of in-kind funding, advice and materials and Spaces for Creatives landlord, Shulem paid for the quilt to be mounted on the house.
NW: And it got really good press in Salvage mag, Crafts Council, a BBC radio London interview, Quiltmania mag and our quilt was almost put up at the front of the Knitting and Stitching show at Alexandra Palace.
JW: You didn't get any public funding, but you were edgy, entrepreneurial, enterprising and delivered an explosive impact. I'd encourage you to get some funding now you've got a track record.
NW: Yes, not having to keep with a funding agreement was freeing.
JW: I was so proud the minute you switched your brain and just said I can just do it. The quilt and community you created was so incredible, look at the volume of people sharing their pictures! It was exciting to feel a little bit of a part of it.
NW: It gave me so much confidence to have that level of success from a grassroots project.
JW: And now you are known as Nicola the Quilt Woman. It symbolises your energy and spirit and gives you a calling card.
NW: I liked that your advice was casual. As an artist looking for business advice can be really intimidating, but because we were friends it doesn't matter how silly the questions are. You helped make my ideas practical, otherwise they're just dreams.
JW: I felt comfortable in the warehouses to have a go and then go for it myself into a risk-taking environment. Your story is emblematic of my beginning.
NW: I've lived here for 10 years now and can celebrate what it's done for my art career in embroidery and making such a great network. That's why the link between the estate and the warehouses was important with Quilt Club. I didn't have a creative network: my dad a fireman and my mum a dental nurse, and I am sure that's the same for a lot of people on the estate, but they have us on their doorstep so Quilt Club for the community was about gentle networking opportunities, done over sewing and without name badges.
SECTOR SPECIALIST BUSINESS ADVICE
---
---
James West is a sector specialist Creative Industries Business Adviser and has worked with 400+ creative, cultural and heritage organisations across the UK.
James works predominately on government funded Business Advice programmes, where his expertise is focused on achieving targeted outcomes.
This article is part of a series of he has created recognising his first decade in business.